Being properly fueled is always an important aspect of running. There are plenty of healthy snacks for runners available to purchase at the grocery store or your favorite run specialty retailer, but it can also be fun and rewarding to make your own tasty snack at home.
Runners need fuel to aid in performance, and having a healthy snack or food before running will help assure a successful run. Then post running snacks can help with recovery.
We searched through many pages and websites to find some of the best running food, snacks and recipes tailored for runners, then had a blast trying them out!
The following are 13 (our baker's dozen) of our favorite tasty and nutritious snack recipes that can be made at home. The ingredients in each recipe add up to a healthy snack that will fuel you between meals so that you can get out the door for a run on the right stride.
 13 Easy Snacks for Runners
To Go Baked Oatmeal with your Favorite Toppings- A standard baked oatmeal recipe is prepared in a muffin tin and topped with your favorite flavors (chocolate, fruit, etc.). A great grab and go breakfast!


No Bake Peanut Butter Oatmeal Bars 
These No-Bake Peanut Butter Oatmeal Bars are the perfect quick breakfast or afternoon snack. Only 5-ingredients including creamy peanut butter, honey, vanilla, oats and chocolate chips!


The best and easiest Coffee Cake Recipe! It's moist, delicious and perfect for any get together or celebration.



Roasted Tomatoes with Eggs and Quinoa
This is a recipe for one but you can easily double, triple or quadruple it if you're feeding more than just yourself. This recipe requires very little prep work.


These bite-sized protein bites are deliciously sweet, and contain no added sugar! Their sweetness comes effortlessly from nature's candy; Dates! Each snack bite is made with natural ingredients that are packed with fiber and protein. Perfect for a low-cal, high protein snack to fuel your workout, or boost your energy levels during the day.



No Bake Granola Bars (Gluten Free)
Whip up a batch of these no-bake granola bars for a healthy breakfast or snack that's always ready to go. Made with wholesome ingredients, this recipe contains none of the artificial flavors or refined sugar of store-bought granola varieties.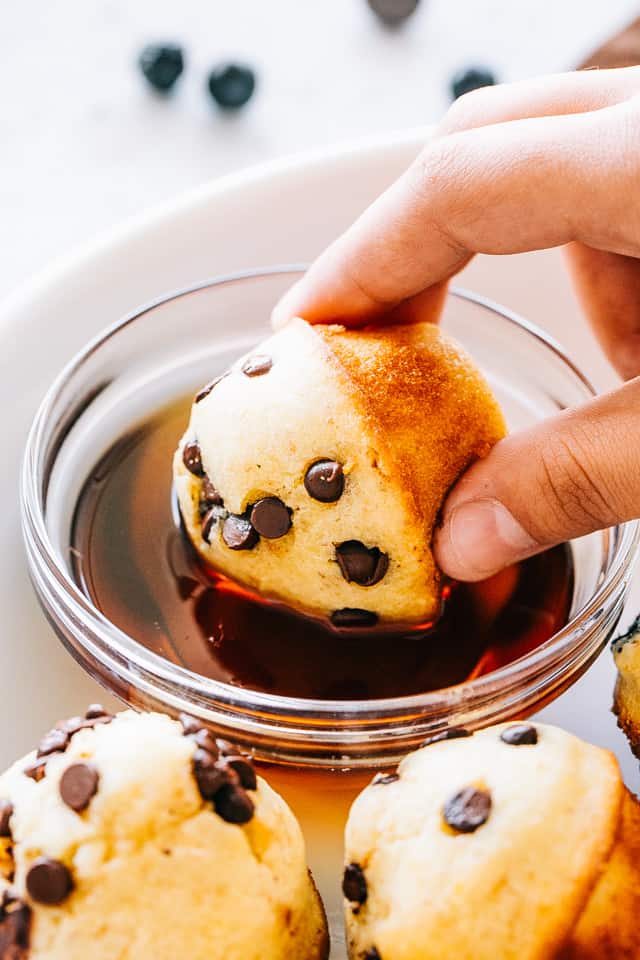 Delicious and easy pancake bites recipe made in a mini muffin pan. Fun to eat, easy to make, and they are HEALTHY. Make them ahead and freeze for a quick and simple low carb breakfast.


 Pumpkin Cranberry Pecan Breakfast Cookies
Just like your bowl of morning oatmeal, these cookies are definitely not light on carbs, but that's okay because whole grain carbs are good for the body as long as you're not overdoing it on them.
 
Chewy, no bake, gluten free Apple Cinnamon Energy Bars are the perfect pre or post workout snack! Easy to make, no weird ingredients and way better than anything you can buy!


Great for breakfast or at a picnic, these tasty yogurt pots have the summer freshness of strawberries and a raspberry coulis with a crunchy granola topping.
You'll never have to buy factory-made energy gels again, with this homemade gel recipe that utilizes natural fruit juices and homemade glucose syrup.


When you've put your muscles through a workout or long run, the tissue will have broken down and will therefore be depleted of energy. Having a smoothie filled with as many good things as possible: fruit, vegetables, chia seeds, flax seeds/oil, protein powders, etc. will help your recovery.

It's actually pretty crazy how similar in taste they are to the 'real' thing – the creamy caramel center over the crunchy pecans and covered by rich chocolate.
Yum, who else is hungry for a few snacks now? A pre run snack is always a great way for runners to fuel their performance. After a run, having a few post run snacks will help with recovery. This is not a comprehensive list of snacks for runners, but only a few of our own favorites. There are endless recipes available online by simply searching "healthy snacks for runners" or similar phrases. We will save our favorite full meal recipes for runners for a later post.
Stay safe, be seen, and Own The Night!
Dan Hopkins
Founder
Knuckle Lights